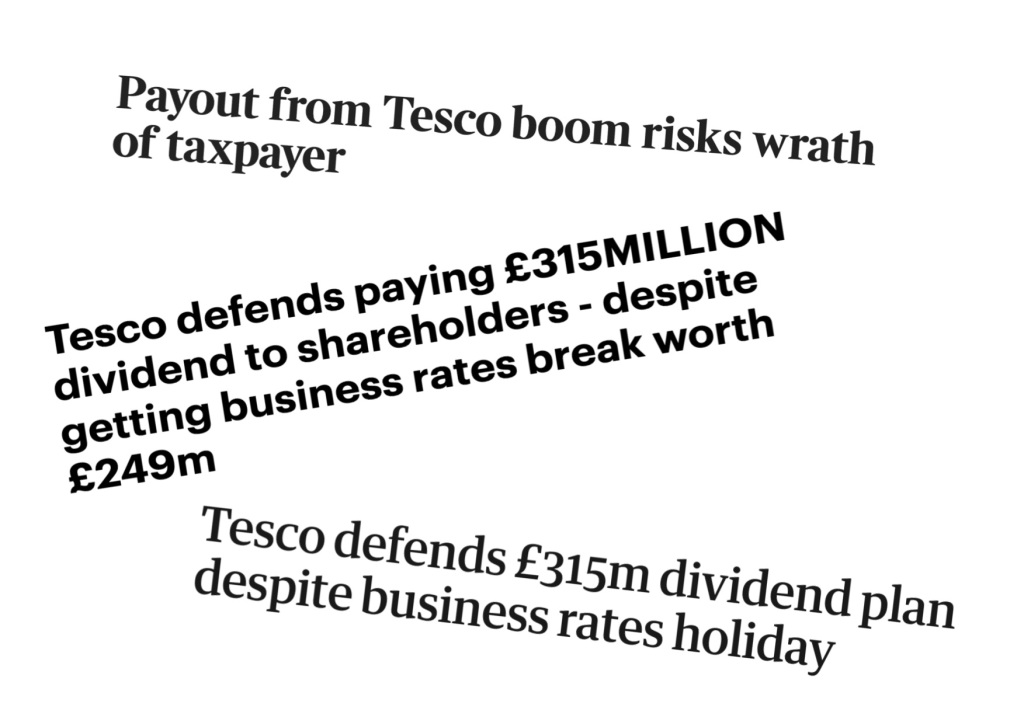 Tesco, like Dominic Cummings, has a home in Durham, but not in Barnard Castle. Also, like the No10 guru, Tesco has come in for a lot of criticism about its application of the pandemic rules. It is banking £532m COVID-19 full year rates rebate, despite actually benefiting in many ways from the lockdown. As a result, it is now paying a bumper dividend up 21%. Is Tesco as short-sighted as Cummings?
There are not many companies at the moment in the happy position of increasing their profits and dividends. Food retailers are some of the few winners from the economic changes arising from the COVID-19 pandemic. People still need to eat, and with more people working from home and not eating out, the grocers have gained sales. Tesco's UK first half retail sales were up a healthy 7.7% over last year.
On the face of it, Tesco doesn't seem a very deserving case of government bail-out, not least as unemployment rises and a quarter of the country is in some form of major lock-down, with other retail and hospitality businesses being forced to close. Tesco's UK and Ireland retail profit in the first half is up by £68m, to £1,133m. This included £249m rates relief for the first half. Tesco argues that this government subsidy is fair compensation for £533m additional COVID-19-related costs that it incurred.
Why is the government giving such a large rates rebate?
This is what the Treasury said at the time. The government is;
"Providing £20 billion of business rates support and grant funding to help the most-affected firms manage their cashflow through this period by: giving all retail, hospitality and leisure businesses in England a 100% business rates holiday for the next 12 months…"
Somewhat surprisingly, there is no detailed explanation (that I can find) as to what the money was for. The intention however seems clear, that this was for firms who would be so badly affected that they would need this cash to keep going. The following week the government announced a full lockdown: People would only be allowed to leave their homes for limited reasons, food shopping, once a day exercise, medical need and travelling for work when absolutely necessary. It seems therefore reasonable to assume that the rates holiday was for businesses who would be affected by this: Businesses who would be forced to close or would suffer significant lost revenue.
Why did the government include food retailers in the rates holiday when they expressly allowed them to remain open and their sales looked likely to hold steady at least? This is not clear, but you would suspect that this was all done in a hurry and they just didn't think it through. It is difficult to believe that they meant to treat businesses that would actually grow sales, identically to those forced to close.
What are Tesco's additional COVID-19 related costs?
This is the analysis provided in the Tesco analyst presentation;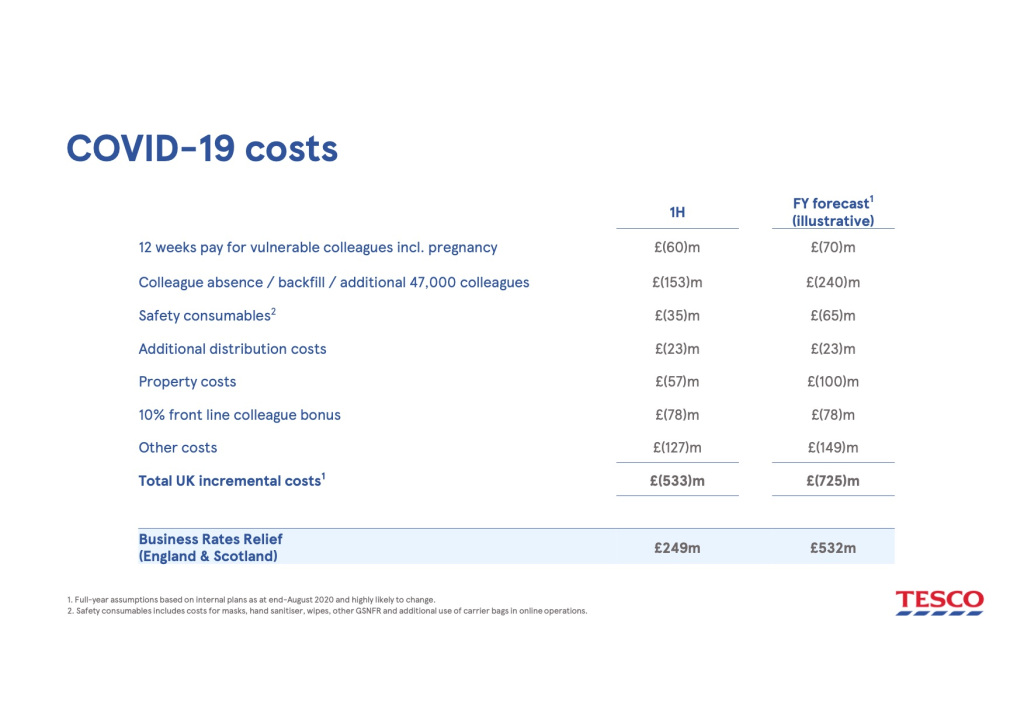 This looks like a pretty full list of costs that could possibly be ascribed to the pandemic. The largest single item is the additional 47,000 temporary staff "to cover absence and meet increased demand". In other words, some of the COVID costs are actually additional costs of handling the extra sales Tesco is making out of the lockdown. Presumably this is also true of the extra distribution costs. There are £127m of unspecified 'other costs' and £57m of unexplained property costs.
It's great that Tesco has rewarded their hard-working front-line staff with a bonus, but the idea that this is funded by the government may not go down well with even harder-pressed, lowly paid NHS workers, who will not receive such a bonus.
There is no way of knowing if these costs should fairly be ascribed as incremental pandemic costs, as Tesco provides almost no information about them. However, you could argue that such a large amount of money deserves some proper explanation from Tesco, not least as it is used as the justification for taking £532m of taxpayers' cash this year.
The importance of Environmental, Social and Governance (ESG) responsibilities
Tesco takes ESG very seriously. The Board has a Corporate Responsibility Committee, ensuring that the company acts "in such a way as to build trust, respect and confidence". Tesco believes in paying tax; "We pay the right amount of tax in accordance with the tax laws in all of the territories in which we operate". Last year, Tesco's corporate income tax bill was £370m.
There is no question that Tesco has every legal right to its rates holiday. The question however is whether this is enough to justify holding onto £532m of public money? The rebate was intended to help out the most badly affected businesses when they had cash flow problems resulting from the pandemic, yet Tesco's retail businesses actually generated £554m free cash flow in the first half. The question that Tesco's board has no doubt asked itself is whether accepting this government money does build 'trust, respect and confidence', not just in Tesco itself- or indeed in business generally.
As Tesco says of its values: "It helps us take the right actions to ensure trust and transparency in our business."
Incidentally, Tesco also booked another £105m benefit from a windfall rebate on rates that had been charged on their cash machines, following a Supreme Court judgement. It has been a good year for Tesco on the rates.
What if Tesco did return the COVID rates rebate?
Tesco's group profit before tax of £581m (continuing businesses PBT, before exceptional items and amortisation) in the first half was £198m below last year. This was dragged down by falling profits in continental European retailing and losses in Tesco Bank.
Tesco's UK and Ireland retail was in fact the only segment that increased its profit. However even here underlying operating profit fell by £181m, but was bailed out by the £249m rates relief. This allowed Tesco to show a £68m increase in domestic retail profit, which funded the £58m increase in interim dividend (1).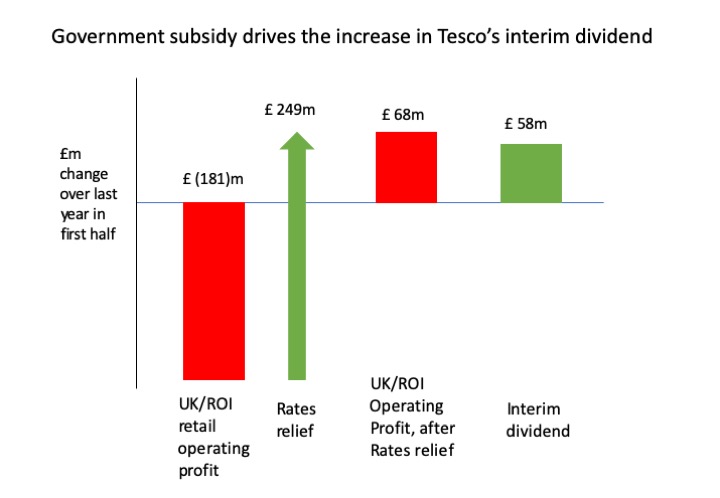 Deciding to keep the windfall rates rebate, whilst increasing the dividend by 21% in the midst of the pandemic was a moment of truth for the Tesco Board. On the other hand, you could argue that not taking the rebate and consequently cutting the dividend would have been a defining moment as well for Tesco's large shareholders. Would they have been happy for the Board voluntarily to return the rebate, costing them millions in dividends? Did, perhaps, the Board consult some institutional shareholders?
The Tesco Remuneration Committee will, at the full year, also have a tricky decision. How far should executive bonuses benefit from the government's accidental generosity? With underlying retail profit growing, but only due to the rebate, there is surely a debate to be had. Executives will say that they've all worked hard and delivered miracles, and the pandemic is not their fault. All of this is of course true, but COVID-19 has caused extraordinary hardship, illness, redundancy and unemployment across the world. Most people have suffered in one way or another. The question is simply whether well-paid executives should earn bonuses from a government subsidy.
Is ESG more than just words?
Some companies are reported to be giving back their financial support from government, including furlough money that they have already paid out to employees. The list includes Redrow, Barratt, Taylor Wimpey, Bunzl, Games Workshop, Kingfisher and Ikea. The reasons include; amounts claimed in error; trading being strong despite the pandemic; and a view that government bail-outs should be returned before executive bonuses or dividends are paid out. Some companies are clearly believing that the reputational gain from implementing a high-minded ESG could be more valuable than the cash being handed back.
Is ESG about vision?
Dominic Cummings drove to Barnard Castle apparently to test his eye-sight. This seems to have been legal, but was clearly not what his own government intended. In doing so, he undermined faith in both government and the lockdown. We expect our leaders to be better than this. Tesco has behaved in a perfectly legal manner, and can justify its own actions. However, as Cummings demonstrates, the virus will have long-term consequences, not just on your own vision, but on how others see you.
UPDATE NOTE
Tesco subsequently agreed to return its rates relief to the government following considerable pressure on the company. This lead was followed by several other retailers. A little late perhaps, but still a victory for the ESG agenda. Well done, Tesco.
.
.
(1) Tesco has an unusual interim dividend policy to pay 35% of the previous year's full-year dividend, apparently irrespective of the financial performance of the new year. If they had applied that policy, without taking the rates relief, they would have increased the interim dividend by 21% as PBT fell to less than half .